Classroom teacher Instagram accounts are old news, but what about accounts run by student teachers who are trying to balance their homework, lesson plans, and social lives? Grace Potter and Meghan Gontz, both Bloomsburg University seniors studying education, have been passionate about teaching since they were little, and now they are sharing that passion with others through social media. They are currently student teaching at Central Columbia Elementary School and documenting their journey through the Instagram account @bloominglearners_.
In the last few years, teaching Instagram accounts have gained popularity. However, Potter and Gontz noticed that there is a lack of social media accounts about student teaching. They decided to fix this problem themselves. Potter says they wanted to "put out a new view of it and a new type of Instagram account where [they] are student teaching and being students at the same time." Potter continues to say that one of the biggest purposes of the account is to "inspire and help other people", which includes fellow students in the education major.
When asked about the reactions the account has received, Gontz explained that many people have responded to their posts, saying how cute an idea is or providing suggestions for them. In addition, both students said the account has allowed them to connect with people they never would have connected with if it were not for this account.
While they love teaching and being with kids, Potter and Gontz expressed that this job can be hard and demanding at times. They said they also use this account to keep their passion for teaching alive. Potter explains that teachers can "feel the love for teaching fizzle out around year 3 or year 5." However, she hopes running this Instagram account can help her stay passionate, as constantly coming up with content ideas "keeps that drive a little more alive." Gontz adds to this, saying that she knows there will be hard things and challenging days, but when that occurs, she believes "you need to see how excited you were and what you are doing and why you are doing it", which is something this account will help them do.
Story continues below advertisement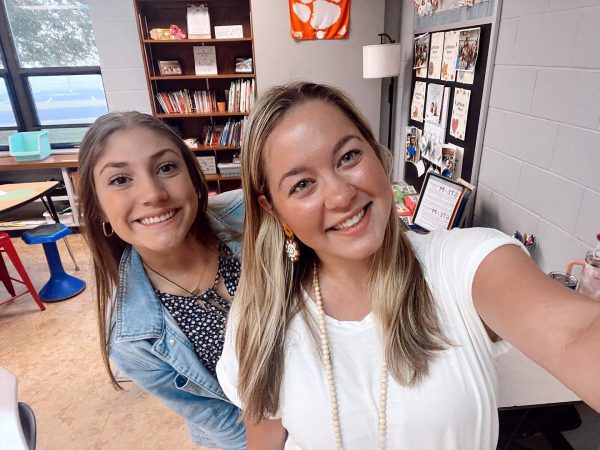 With graduation a mere seven months away, both students are excited about the future of the account. They have agreed that they want to keep it running, as they believe they can bring even more content to it once they both have their own classrooms.
Gontz states, "We are going to be graduating and going to two separate places, two different school districts, so it would be a huge benefit to have that Instagram and see what's different."
Potter and Gontz will most likely be teaching in different schools with different curriculums. They feel continuing to post on the account will allow them to reach more people and bring differing teaching perspectives to the account. It gives them and their followers a look at how teaching programs differ in different areas, and it allows them to see how far they have come in their teaching journey. Potter excitedly exclaims that keeping the account running while they have their own classrooms "would be a whole different realm of possibilities to put out."