Women's Soccer gets revenge win over ESU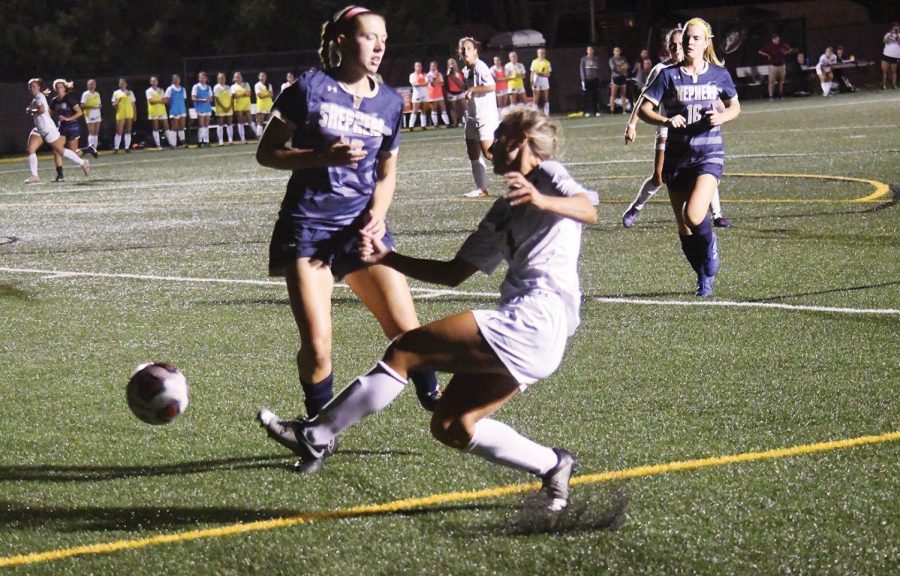 The Bloomsburg University women's soccer team defeated Pennsylvania State Athletic Conference (PSAC) rival East Stroudsburg University (ESU) by a score of 2-1 on Wednesday night. With the win, the Huskies extend their winning streak to four consecutive games and now boast a 6-1 (4-1 PSAC) overall record. The Warriors dropped to 4-2 (3-2 PSAC) respectively.
The last time these two teams met on Sept. 11, East Stroudsburg scored the lone goal of the match in double overtime to shock the Huskies in their first (and only) loss of the season. The loss for Bloomsburg back on Sept. 11 knocked them out of the national division II women's soccer power rankings after starting the season at #5. The Warriors entered yesterday's match against BU at #21 in the polls.
Bloomsburg got things started on Wednesday afternoon with a goal from junior defenseman Natalie Holmes just seven minutes into the match.
The goal marked Holmes second in as many games as the junior has proved she has shown much improvement upon last season on how to lead this year's squad.
Junior midfielder Mackenzie Gebhardt then extended the Bloomsburg lead just four minutes later off an assist from Holmes in the eleventh minute. The tally from Gebhardt made it her third goal of the young 2019 season. The Huskies outshot the Warriors by a total 12-4 in the opening half of play.
After heading into the half with a 2-0 lead over ESU, the Huskies then shifted their focus to the defensive side for the second half of regulation.
The match did not see another goal until the final three minutes of play, when Brienn Seaman of East Stroudsburg made things interesting with a goal to cut the Bloomsburg lead to just one with two minutes to play.
The Huskies would fight any last-minute comeback the Warriors had to offer to preserve the conference victory and win their fourth consecutive match.
The match concluded with a final shot total of 20-10 in favor of BU. Redshirt junior goalkeeper Jenna Hawkins earned the win in net for the Huskies, turning aside two ESU shots that came on goal.
Hawkins now ranks third in the PSAC with three shutouts on the season and fourth in goals against average.
The Huskies now look to this Saturday when it welcomes yet another conference foe in Lock Haven University.
Lock Haven boasts a 1-2-1 (1-2 PSAC) overall record heading into Saturdays match with their lone win coming against Shippensburg back on Sept. 14.
For more information on the win over East Stroudsburg, or this Saturday's match against Lock Haven, please visit BUHuskies.com.