Huskies Volleyball Sets School Record
Women's Volleyball Earns 11th Victory, in Pursuit of Playoff Stakes
The anticipation grew, as the Bloomsburg Women's Volleyball team headed into their final set of the game, against D'Youville College.  After winning their first two sets, the Huskies needed just one more victory to seal the deal. The pressure grew, as some of the Huskies were not aware of what was at stake for their program.  Relying on their stamina, the maroon and gold entered the final match with their heads held high, despite their fatigue from the long day behind them.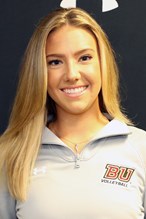 In just their third season of play as a varsity sport, the Women's Volleyball team is pushing playoff contention, with only two games left in the regular season. Likewise, graduate student and defensive specialist Alyssa Cianciulli (Royersford, PA) is also nearing the end of her career and is looking to finish the season strong.
Just recently, Cianciulli celebrated 2,000 career digs in less than three seasons with the Huskies. When asked about what this means to her, she stated, "It means obviously a lot to me, like I came back and I knew I was close to it, so when I came back for my fifth year, I was like that's one of the things I want to accomplish before I leave… I want to set such a legacy… I think if I'm as good as I can be right now, then they're just gonna be better for years to come if they can find somebody to match me or even be better than me."
Long at last, the Huskies were able to shut out the D'Youville Saints, winning the final set of the day, 25-15. With this victory, the team set the school record for most wins in a season, with eleven.
In her first season with the Huskies, middle blocker Liz Bopp (Ebensburg, PA) expressed, "I honestly didn't even know that they only won ten games their first year… so then when we did break the record, it was actually pretty cool to be a part of."
Currently BU is ranked fourth in the PSAC standings. Looking ahead to this weekend's upcoming matches against #5 Shippensburg and #1 Shepherd, how will the team put on the pressure against these PSAC East rivals?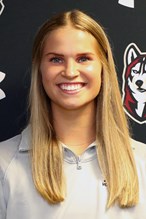 Cianciulli noted, "Well our coach likes to say that there is no pressure, and he's right in a way, like we are only in our third season… but looking at a senior who's going to be graduating, there is pressure just for the fact that we should be in the playoffs. There's been so many games that we should have won, that would have put us in fourth or maybe even third, and not have to worry."
Bopp expanded on this saying, "I definitely think beating Shepherd would be a huge game. And we played so well against Shepherd last time, even though we did lose… if we use that as motivation, maybe we could win."
Because of COVID, the middle blocker did not get the chance to experience her freshman season. Coming into 2021, she was finally able to become a collegiate athlete, and compete.
Commenting on her personal goals, Bopp stated, "I just want to do what's best for my team and try to get them as far as they can, because they were the ones that started the program, so it would be cool to be a part of that experience and help them along the journey."
In her first season, Bopp has eleven kills, one assist, 13.5 points, three digs, and eight total blocks. As for Cianciulli, throughout her three years at Bloomsburg, she has eight kills, 269 assists, 2,003 digs, and 103 points. Additionally, she is ranked first throughout the entire NCAA Division II standings for digs per set with 6.93.
Bopp expressed how much of a leader the upperclassmen have been this year stating, "They have been amazing, in the beginning it was really hard to get close with everyone, but once we reached a point where we saw each other every day, I just got super close with them… The seniors have really helped me be who I am right now and pushed me, so I'm gonna miss them a lot."
With senior night approaching, emotions are running high for the Huskies. In relation to this, Cianciulli was asked to reflect on her biggest memory with the team, and how she will carry what she has experienced into her life moving forward.
"My biggest memory is honestly just traveling with the team. I think you really grow and bond with the team, because there's stupid things that happen on the road, and it's just so fun. Being with a team that has so many girls, you kind of learn that everybody's different, and everybody takes things in a certain way…. and it just makes you overall better I think in terms of social skills and communication."
The Volleyball team gets back to action at home, this Friday vs. East Stroudsburg at 7pm, and Saturday vs. Kutztown at 6 pm in the Nelson Field House. Come and support your Huskies as they wrap up the regular season.