Huskies Baseball Swinging for Success in 2022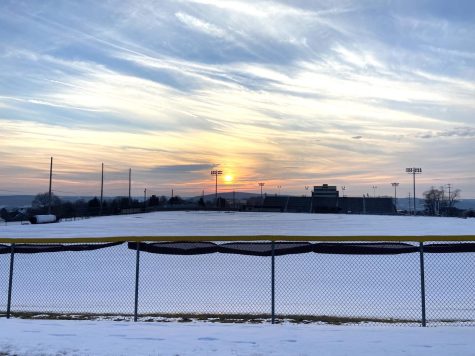 Baseball fans, the time has come for pitchers, catchers, hitters and fielders to begin the trek to opening day. After finishing the 2021 season with a 24-18 record, the Bloomsburg baseball team anticipates the 2022 contest which is right around the corner. Even the snowy weather conditions of Bloomsburg, will not stop the Huskies from America's favorite pastime.
Redshirt sophomore, Logan Hile (Windfield, PA) is a left-handed pitcher for BU, and has appeared in 17 games throughout his career. 
When asked how the team is preparing for the start of the season, he explained, "We like to enjoy our practices and socialize with each other but we also understand as a group when it's time to get better. We have been putting our time in at the weight room and also working as a group in Nelson Fieldhouse whether it's by position group or live at bats with the pitchers and hitters." 
Last season, Hile had a career high twenty five strikeouts in 23.2 innings pitched, and recorded one save. Additionally, off the field, he earned the PSAC Scholar Athlete award in 2021.  
Just recently, the team was ranked #33 by Collegiate Baseball 2022 NCAA DII Preseason Poll. This is in the top  12% of DII teams in the country.  With this in mind, the Huskies are motivated to execute a winning season and meet expectations.  
Hile commented, "It certainly gives us that extra push to want to continually improve and succeed to push our ranking even higher up. We are focused on our team goals and strive to have a great 2022 season."
For the past three seasons, the Huskies have a combined record of 68-35, under head coach Mike Collins. Their success in 2019 and 2021, led them to achieve back to back PSAC Championships. They also went on to make appearances in the NCAA Atlantic Regional Tournament. With these achievements under their belt, the Huskies want to continue to strive for excellence in 2022. 
Hile expressed the team's goals stating, "We have lots of great talent and potential throughout our entire roster, and are excited to show it once we get onto the field. We obviously have our eye on the PSAC tournament and a chance to defend our championship, but we want to take our season day by day and game by game." 
Bloomsburg will kick off the 2022 season at the University of Sciences on February 19 and 20, for a four-game series on the road. Their home opener is set for March 12 vs Shippensburg, at Danny Litwhiler Field.