Women's Lax: Biehl Faces the Ultimate Challenge of Her Career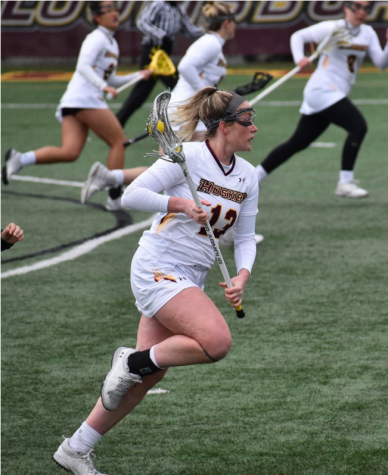 Erika Biehl, student-athlete at Bloomsburg University experienced hardships early on in her lacrosse career.
In her sophomore season of lacrosse, she took on a new position, midfielder. After a few weeks in this new position, she began to feel pain in her left hip. She brushed it off thinking the running from her new position was just starting to wear on her.
In the summer of 2019, she got an MRI showing that she had completely torn the labrum in her left hip and needed surgery. Biehl was taking a summer course to help with the rigorous class load of a nursing major, so her surgery
was put off until July 1st. Prior to her surgery, she tried a cortisone shot which gave her an allergic reaction.
Biehl explains, "I never missed a full season. In a way I was lucky for that, not knowing how severe I was hurt."
During her surgery to repair her torn labrum, the surgeon found a hip impingement to which they dislocated her hip and shaved some of the bone down during her surgery. However, this did not affect her recovery time.
During her recovery, she still supported her teammates by going to their 5 AM lifts and 6 AM practices that fall.  During these times she was able to work on her recovery by doing her physical therapy during these practices.
By October, she was jogging around the track, starting to get her motion back. Biehl felt support from her team, coaches, the physical trainers, and lifting coaches.
The lacrosse team does something special each Monday, they call it "The Hype Box" this is where they are able to praise their teammates anonymously.
Biehl said she received several praises saying, "You're killing this recovery!" This kind of encouragement is what kept her going.
The Come Up and The Let-Down
By thanksgiving, she was fully cleared to begin practicing.
Spring season 2020 came quick and was taken even quicker. The Huskies played Shepherd, but the following day their game was canceled due to the outbreak of Covid-19. Biehl recalls her game against Shepherd being her best game yet since her surgery.
She explained, "I finally felt like myself again. Even my coach said I killed it that game."
Biehl kept herself in shape during the lockdown from Covid-19 by riding her Peloton, going for runs, and passing the lacrosse ball back and forth with her sister, who also now plays lacrosse for Bloomsburg.
A year later Biehl was heading to the field again, but this time with some caution.
"I was scared to hurt myself again. I had just done so much to recover, and I hadn't played in a year," said Biehl. She was worried she would never get back to her full potential. She also added, "I knew my team had my back through, if I got beat, they were going to be there."
Her final season with the Huskies came and went in the blink of an eye. She came to terms with herself that she had done everything to recover, and in her final season, she wanted to leave everything she had on the field. She did just that.
After her season she ended with a .765% shot on goal statistic, 59 ground balls, and 40 caused turnovers. She ended her career with a total of 156 ground balls and 102 caused turnovers. This landed her first-team selection in her second-straight All-PSAC East honor. This was her first time on the first team.
Erika Biehl is a spring 2022 graduate from Bloomsburg University's nursing program and will move on to work as a registered nurse in stroke/telemetry at Riddle hospital of Main Line Health.