A Look Inside: The Impact Movement BU Chapter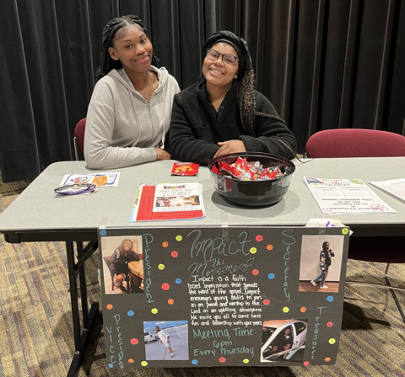 Bloomsburg University's chapter of The Impact Movement is a faith-based movement that focuses on ministering and uplifting black college students. The club meets every Thursday from 6-7 p.m. at the Kehr Student Union in room 410.
This organization's main goal is to provide students with a community of believers that supports and encourages each other. Members of Impact recognize that college can be a hard time for some students, especially believers looking for a new outlet to share their faith.
"It can be a hard transition for some people," said sophomore and president of the club, Scripture House.
House believes it's incredibly important to bring believers and nonbelievers together in a fun way that starts conversations and encourages lasting friendships.
"We want people to… realize that just because they aren't [at] home doesn't mean [that] they have to stay in their dorm to worship God," said House.
She aims for each meeting to make people feel equipped in their faith and comfortable with the topics discussed.
"Impact brings comfortability," promises House.
Each meeting allows students an opportunity for prayer, fellowship, and a lesson.
The club aims to host a large event each month open to anyone interested. The next large event will be hosted on Feb. 21st (location to be determined). This event will be a dodgeball tournament. Students who attend will have the chance to win prizes including a $40 gift card, discounted haircut, or discounted nail appointment.
Students who are interested in getting involved in Impact or learning more about it are encouraged to show up to one of the meetings or reach out to their Instagram page (@bu_impact) for more information.