Women's Soccer Brings Gold "Holme"
BU Women's Soccer wins PSAC Championship, but falls in NCAA 2nd round.
Despite the Women's Soccer PSAC Championship win, and victory vs. Gannon in the First Round of the NCAA Tournament, the Huskies' season came to an end Saturday, November 20th vs. Concord University, losing 4-0.
Even though the Huskies could not manage to advance to the Third Round of the NCAA Tournament, the 2021 season was still remarkable, especially in their first season back since 2019, due to the pandemic. One athlete in particular, whose athleticism and leadership skills highly benefited Bloomsburg this season was graduate student Natalie Holmes (Laurel, MD).
When asked about the team's mindset going into the much-anticipated PSAC Championship Game, Holmes remarked, "Playing any team three times in a season is always going to be a challenge. We prepared for Millersville by mainly going over game plans and watching video from our past games to make sure whatever mistakes we made in those games didn't happen in the championship."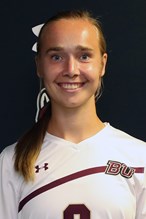 The environment was tense at Steph Pettit Stadium in the game vs. Millersville, with the title on the line. The game was highly physical, with both teams not holding back their aggressiveness. After nearly ninety minutes of play, the Huskies took over the offensive momentum, and scored their first and only goal of the game, thanks to junior Abby Groff (Sellersville, Pa./Pennridge).
At last, the clock ticked down to zero, and for the first time in four years, Bloomsburg won the PSAC Championship, over Millersville. Following the contest, Holmes was named the tournament MVP, because of her outstanding performance throughout the week. She completed the week with three assists and held down the Huskies defense throughout the game. Additionally, in her final season with the Huskies, Holmes scored six goals, seven assists, and 19 points.
When asked about how it felt to be named the Tournament MVP, she expressed, "Being named the PSAC Tournament MVP was a complete surprise for me. I had no idea that that was going to happen, but I am extremely grateful and so lucky. It truly is a huge honor! I couldn't do it without my teammates who have pushed me all season and my parents who are my biggest supporters in life!"
After this victory, Bloomsburg advanced to the NCAA Tournament, where they took the victory in OT in the first round over Gannon, 2-1. However, in the second round, the Huskies season ended abruptly, as they fell to Concord 4-0. Bloomsburg ended the season with a 16-5-2 overall record and should be proud of their exceptional accomplishments.
On November 23rd, Natalie Holmes was named to the DII Conference Commissioners Association All-Atlantic Region First Team. This is her third straight all-region honor after also securing the awards in 2019 and 2018.
In regard to this, Holmes remarked, "I felt extremely honored to be named D2CCA All-Atlantic Region First Team! I have been named second team for two years in a row so getting first team for my last season is a really big accomplishment for me. Just seeing who was on the regional teams made me feel very lucky that I was named to the first team, because there are a lot of great players on each team."
In her final season, Holmes was also named the PSAC East Defensive Player of the Year, attained PSAC East First Team honors, and obtained the CoSIDA Academic All-District First Team.
Over the years, Holmes has made a multitude of memories as a collegiate athlete and has especially enjoyed her final season as a Bloomsburg Husky. Especially after missing her senior season in 2020, Holmes was most grateful for the chance to come back in 2021 and dominate.
She reminisced, " I have a ton of memories from the 2021 season but my top favorite one has to be winning PSACs. That was one of my goals in coming back, was to win one more PSAC championship with these amazing girls. I'm just so proud of this group and beyond lucky to have been able to go on this journey and see the growth that this team made over the course of this season. I can't wait to see what they accomplish in the coming seasons!"