In anticipation of the fall semester, the talk of the town was the newly established Dunkin' at Scranton Commons. However, this addition to the campus has stirred conversations that extend beyond the realm of coffee and doughnuts.
On July 26, @bloomsburguniversitydining on Instagram posted a photo showcasing a new sign that read "Huskys Runs on Dunkin", which received around double the likes of an average post from the campus dining services account, as well as immediately sparking buzz about the phrase's incorrect grammar.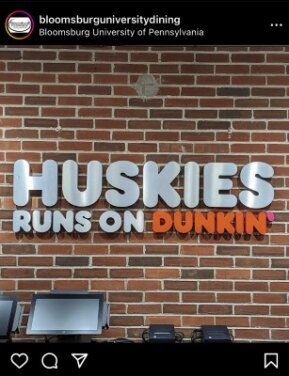 Instagram users seized the moment to point out the irony, recommending sign review by Bloomsburg's writing studio, WALES, before unveiling. As of Sunday, August 27th, the IG post boasts twenty-three comments.
Among those comments were also users expressing there excitement for Dunkin' coming to campus, remarking how they plan to spending much Flex, Husky, and other money at the chain.
Story continues below advertisement
Anticipation for Dunkin's arrival on Bloomsburg campus began last spring when the Commons' Starbucks closed, replaced by a "Coming Soon" banner.
By mid-August, as Dunkin' staff arrived for training, the sign's grammar error had been corrected, with only the original, still-live post bearing the mistake, as of publication.
"The sign was fixed prior to opening… Our focus remains forward facing in providing the greater Bloomsburg campus community with quality experiences at the campus Dunkin'.", said John Scheers, Bloomsburg Dining Service Marketing Manager.
Although no one knows exactly how the error went unnoticed, this has not stopped students from grabbing Dunkin' on campus and using the cafe area as a new study spot.
Dunkin' will be open weekdays from 7:30a.m. until 4:00p.m.