Signify's welcomes with open hands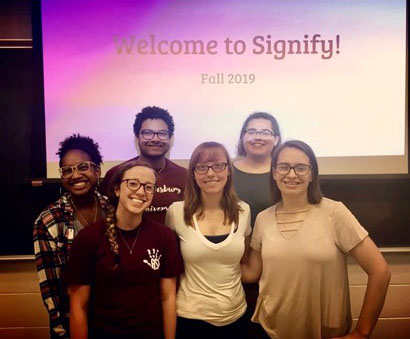 Signify is a club that meets up to help students practice and improve their American Sign Language skills within a supportive environment. You do not need to have any back ground in signing itself.
We will help you with whatever it is you need. If you just want to obtain the basics, we can help you with that as well. You can be in any of the majors the university offers, you do not need any direct link to the American Sign Language/English Interpreting or Deaf Education majors. Any and all majors are welcomed!
 For those students who are currently enrolled into American Sign Language classes, Signify can now provide transportation to and from Deaf Events, as part of your class requirements.
Currently, Signify is putting the finishing touches on our Deaf Sports Day, which will be held on Sunday October 27, 2019 from 2:00pm-6:00pm at pavilion 1, down at Bloomsburg Park. 
There will be games, food, fun. Come out to get away from the campus for a bit and just relax. The next event that Signify is hosting is our annual Deaf Awareness Day, which will be held on Saturday November 16, 2019 from 12:00pm-4:00pm, there is a $5.00 entry fee, which will come with entry to the event, and 5 bingo cards for the bingo games we will be playing. 
There with be presenters during this event to explain to students how it was growing up as a Deaf child and how it affected them throughout school and what it is they do today.
Come check out our bi-weekly meetings Tuesdays in Bakeless 211 at 5:00pm-6:00pm and on Wednesdays in Navy Hall 221 at 3:10pm-4:00pm. Our next meetings are Tuesday October 22nd and Wednesday October 23rd.
If you would like to contact us we are available at:Instagram: bu_signify_club, Facebook: Signify Bloomsburg and Email: [email protected]. 
See you there!